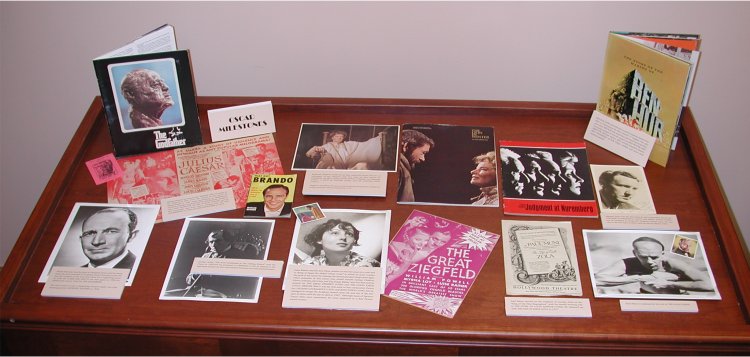 | | |
| --- | --- |
| | Luise Rainer was the first Oscar winner to win two years in a row and in doing so began the fabled "Oscar curse" in which an actor reaches the peak of his career by winning the award and then drops from sight. Other examples of this career jinx would include George Chakiris, Gloria Grahame, Joel Grey, and Gig Young). Rainer won her Best Actress awards for THE GREAT ZIEGFELD (1936) and THE GOOD EARTH (1937). |
George Arliss, "The First Gentleman of the Talking Screen" won the Oscar in 1929 for his portrayal of DISRAELI, a role he played in the legitimate theatre for five years before it became an early sound picture.
Paul Muni in makeup for his role in THE GOOD EARTH.
Paul Muni carried on the tradition of George Arliss as the "King of the Film Biographies" with his Award winning role in THE STORY OF LOUIS PASTEUR (1936). He followed up with THE LIFE OF EMILE ZOLA in 1937.
SPENCER TRACY was the first actor to win consecutive Oscars for CAPTAINS COURAGEOUS (1937) and BOYS TOWN (1938), but he managed to escape the Academy Award curse. He was one of the few stars to shine until the day he died in 1967. Although many of Spencer Tracy's films were nominated, he never appeared in a Best Picture award winner.

Katherine Hepburn holds the all-time record for Oscar wins for an individual, in any category, with four wins for Best Actress for MORNING GLORY (1934), GUESS WHO'S COMING TO DINNER? (1967), A LION IN WINTER (1968) and ON GOLDEN POND (1981). Hepburn and Meryl Streep are tied for having the greatest number of acting Academy Award nominations (12).
Walter Brennan was the dean of character actors and for many years the most awarded of Academy Award winning actors. He was the recipient of the very first Oscar for a supporting actor in 1936 for COME AND GET IT. He won again in 1938 for KENTUCKY and in 1940 for THE WESTERNER.

The first actress to win a Supporting Actress trophy was Gale Sondergaard for ANTHONY ADVERSE in 1936.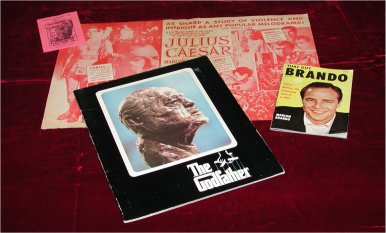 Marlon Brando introduced the "Method" style of acting to the Hollywood film. Over the course of his career he demonstrated a wide range performing in Shakespeare (JULIUS CAESAR), musicals (GUYS AND DOLLS), character roles (THE TEAHOUSE OF THE AUGUST MOON), and in two memorable Best Actor Oscar winning roles ON THE WATERFRONT in 1954 and THE GODFATHER in 1972.
| | |
| --- | --- |
| | BEN HUR (1959) held the record for Academy Award wins until Titanic tied the accomplishment in 1998. With 12 Nominations the film collected 11 trophies. The only area where BEN HUR was nominated and bested was in the Best Screenplay category. It won the awards for BEST PICTURE, BEST DIRECTOR (William Wyler), BEST ACTOR (Charlton Heston), BEST SUPPORTING ACTOR (Hugh Griffith) and seven more technical awards. |