| | |
| --- | --- |
| | 1927 was a year of milestones for the motion picture industry. The revolution of sound retooled and energized the entire Hollywood community. With breakneck speed, the art form and craft of the silent film were suddenly and unceremoniously consigned to the history books and the artists and the audience decided the shape, direction and sound of the modern cinema. The added dimension of music, sound effects and the human voice would pave the way for a galaxy of sparkling new stars on the Hollywood horizon and the movie business would rise to unimaginable heights and box office. |
| | |
| --- | --- |
| | |
On January 11, 1927, MGM Studio head, Louis B. Mayer, proposed the formation of "The Academy of Motion Picture Arts and Sciences" in order to mediate studio labor disputes and to "improve the image" of the Hollywood community through self-censorship and the promotion of technical advances. Achievement within the studio system would be noted with "Academy Awards of Merit" created as "the highest distinction attainable in the motion picture profession." The first films eligible for the newly formed Academy Awards were those made in 1927 and 1928. Seventy-five years later, the technical advancements introduced since the introduction of sound have been astounding. Widescreen, stereophonic sound, and breathtaking special effects have made the unimaginable more than a reality for the movie fan. The "Oscars" have honored many of these achievements and the annual telecast is one of the most anticipated and highest-rated events in show business. The events of 1927 continue their impact on Hollywood and the film industry of 2002.
| | |
| --- | --- |
| | The modern image of Hollywood was created along with the formation of the talking film. The sights and sounds of the movie mad city were now a part of the popular culture. The Brown Derby Restaurant, the Hollywood land sign, Graumann's Chinese Theatre, and Hollywood and Vine became familiar landmarks to the American movie goer. |
| | | |
| --- | --- | --- |
| | The fans in the Midwest and the East now knew which studio produced the best musicals (MGM), the best gangster films (Warner Brothers) and the best horror films (Universal). The new icons of the cinema could be found on the covers of the fan magazines, on cigarette cards and on "Dixie Cup" ice cream lids. | |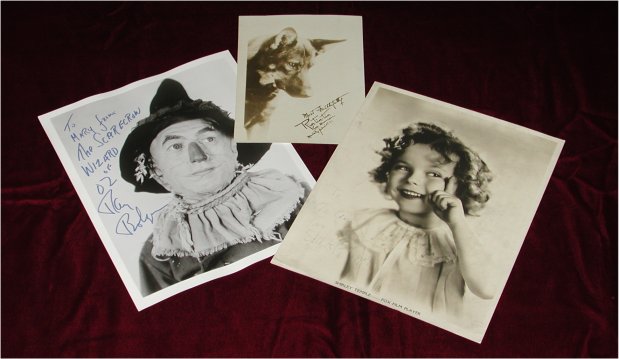 The studios would soon create vast publicity departments to keep the fans informed and the stars out of trouble. Everyone from Rin Tin Tin (one of Hollywood's first big stars) to Shirley Temple (the number one box office star of the 1930s) would graciously sign autographs and play the publicity game in Tinsel Town.