The Rare Book Collection has a wealth of material on the African experience in the Americas. An important aspect of the collection consists of African American authors. While much attention has deservedly been given to modern writers, here are examples of the foundation upon which 20th century African American literature was built.
Sources: African American Authors, 1745-1945: Bio-bibliographical Critical Sourcebook /edited by Emmanuel S. Nelson
Westport, Conn.: Greenwood Press, 2000
Afro-American Women Writers, 1746-1933: an Anthology and Critical Guide / Ann Allen Shockley
Boston, Mass.: G.K. Hall, c1988
The Pen is Ours: a Listing of Writings by and about African-American Women Before 1910 with Secondary Bibliography to the Present / Compiled by Jean Fagan Yellin, Cynthia D. Bond.
New York: Oxford University Press, 1991
Prince, Lucy Terry, d. 1821
"Bars Fight, August 25, 1746"
First printed in:
Holland, J. G. (Josiah Gilbert), 1819-1881
History of Western Massachusetts
Springfield: S. Bowles and Co., 1855
v. 2, p. 360
Rare Book Collection: 974.4 H735h
Lucy Terry Prince was the first African American poet, although her only known poem is "Bars Fight." Based upon a raid by a group of sixty Indians on two families in the southwest corner of Deerfield, Massachusetts, it is considered the most complete contemporary account of the massacre. The poem was preserved by historians of Deerfield and was finally printed in Holland's History of Western Massachusetts. Lucy was a well-known raconteur and a forceful orator. When she brought a case against a neighbor of property her husband and she owned in Vermont, the presiding Justice Samuel Chase was said to have remarked her plea surpassed that of any Vermont lawyer he had heard.
Wheatley, Phillis, 1753?-1784
Poems on various subjects, religious and moral
London, Boston, 1773
124, [4] p., [1] leaf of plates: port.; 19 cm.
Rare Book Collection: ENE 73 Howe Collection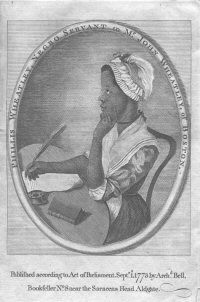 Phillis Wheatley was the first African American and the second woman to publish a book of poetry. The first, by Anne Bradstreet, was printed about 100 years earlier. Purchased by the Wheatley family of Boston in 1761, she soon demonstrated an interest in education. Within 16 months, she had learned English, mastering it in four years, and then commenced a study of Latin. At the age of 14, she composed her first poem and continued to write poems for special occasions. Her first published poem, "On the Death of the Rev. Mr. George Whitefield," created a sensation, was reprinted several times, and was eventually included with Ebenezer Pemberton's Heaven the Residence of the Saints: a Sermon Occasioned by the Sudden, and Much Lamented Death of the Rev. George Whitefield, published in 1771. Concerned with her poor health, the Wheatleys sent her along with Nathaniel Wheatley to England in 1773, where she was well received in London society. Upon learning of Mrs. Wheatley being gravely ill, she returned to Boston after four months. Phillis was manumitted either in the year of Mrs. Wheatley's death 1774 or in 1778, the year of John Wheatley's passing. The portrait of Phillis was drawn by Scipio Moorhead, an African American artist. One of the poems in the book is titled, "To S.M. a young African Painter, on seeing his Works."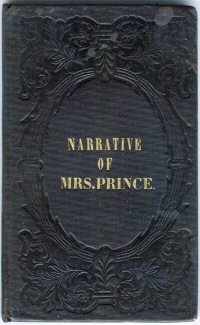 Prince, Nancy, b. 1799
A Narrative of the Life and Travels of Mrs. Nancy Prince
2nd ed.
Boston: The Author, 1853
89 p.; 16 cm.
Rare Book Collection: CT275.P848 A3 1853
Nancy Prince's early years were unsettled; her father died when she was three months old, her stepfather was captured by a British privateer during the War of 1812 and died in 1813, and the older children were placed with other families. At the age of 23, she married Mr. Prince (his first name remains unknown), who had served in the court of the czar of Russia. Within two months, they traveled to Russia and took positions at the court. She returned to America nearly ten years later, her husband remaining in Russia at the behest of the czar, dying within two years. In Boston, she was involved with the abolitionist movement. In 1840, she traveled to Jamaica in the British West Indies, where slavery had been ended in 1833. The first edition of her book was published in 1850 and the third edition in 1856.
Keckley, Elizabeth, ca. 1818-1907
Behind the Scenes, or, Thirty Years a Slave, and Four Years in the White House
New York: G.W. Carleton & Co., 1868
[4], [ix]-xvi, [17]-371 p.: front. (port.); 19 cm.
Rare Book Collection: E457.15 .K26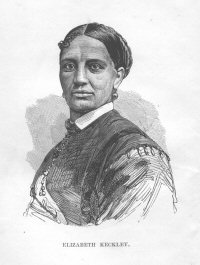 Despite the impression given by the title, only three out of fifteen chapters recount her years in slavery. After serving in a number of households and southern states, Elizabeth Keckley was able to purchase her freedom in 1855. Journeying to Baltimore in 1860, she established a business teaching sewing to young African American women. The business was not successful and she went to Washington, D.C., finding work as an independent seamstress. She soon was patronized by the Washington elite, her establishment employing 20 women, and came to the attention of Mary Todd Lincoln. She became one of the closest intimates of Mrs. Lincoln. After the president's assassination, she helped Mary settle in Chicago. Because of criticism that the book was too revealing of the Lincolns' personal affairs, her seamstress work dramatically decreased and she gave up the trade. She had been active in social causes, assisting in the founding of the Contraband Relief Association during the war and the Home for Destitute Women and Children.
Rollin, Frank A.
Life and Public Services of Martin R. Delaney, Sub-assistant Commissioner, Bureau Relief of Refugees, Freedmen, and of Abandoned Lands, and the Late Major 104th U. S. Colored Troops
Boston: Lee and Shepard, 1868
367 p. ; 20 cm.
Rare Book Collection: E185.97 .D33
Frank A. Rollin was the pseudonym for Frances Anne Rollin. She was born into an affluent Charleston, South Carolina family in 1845 or 1847. They were visiting in Philadelphia when the war started and remained there to its end. Returning to Charleston, Frances taught in a school for freedmen. In July, she filed a complaint against a steamboat captain for refusing to sell her a first class ticket. During the pursuit of the legal action, which she won, she met Major Martin Robison Delany. Before his army career as the first African American officer, he had founded a newspaper in Pittsburgh, Pennsylvania, worked with Frederick Douglass in publishing The North Star, studied medicine at Harvard and practiced in Pittsburgh and Canada, wrote a novel, Blake, or, the Huts of America, and led a group of potential colonizers to the Niger Valley in Africa. Obviously, the stuff of an excellent biography. After finishing her work, she had great difficulty in finding a publisher, causing her to take up the pen name Frank. It was the first biography of a free-born African American. Marrying William Whipper, an attorney, she returned to Charleston and remained active in political and social causes.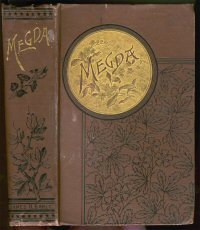 Kelley, Emma Dunham
Megda / By "Forget-me-not" (Emma Dunham Kelley)
2nd ed.
Boston: J. H. Earle, 1892, c1891
[6], v-vi, [9]-394 p.: port. ; 20 cm.
Rare Book Collection: PS2159.K13 M44 1892
This is the third novel published by an African American woman, but very little is known about her other than she married a man by the name of Hawkins before the publication of her second novel. The first edition of Megda appeared in 1891 and her next and final novel, Four Girls at Cottage City was published in 1898.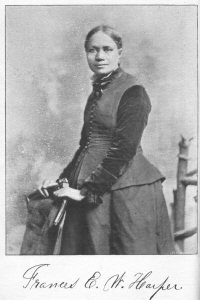 Harper, Frances Ellen Watkins, 1825-1911
Iola Leroy; or, Shadows Uplifted
2nd. ed.
Philadelphia: Garrigues Brothers, 1893
[4], 282 p.: front. (port.); 20 cm.
Rare Book Collection: 813.4 H293i
Raised from the age of three by her uncle, the Rev. William Watkins, Frances Harper was educated at his William Watkins Academy for Colored Youth. She began lecturing in 1854 and in 1867 commenced a tour through the South, addressing morality, family, education, and temperance. She was a particularly strong advocate of women's rights, giving private lectures to freedwomen at no charge. In 1888, she addressed the International Council of Women in Washington. She was a member of the American Women's Suffrage Association, the Women's Christian Temperance Union, the American Equal Rights Association, the National Council of Negro Women, the American Association for the Education of Colored Youth, the Universal Peace Union, and the John Brown Memorial Association of Women. A prolific writer, her first collection of poetry, Poems on Miscellaneous Subjects, was published in 1854, followed by several other books and novella published in serialized form in the Christian Recorder. Her only novel, Iola Leroy, first appeared in 1892.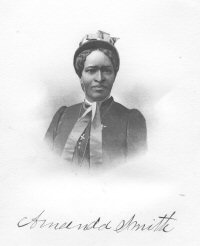 Smith, Amanda, 1837-1915
An Autobiography, the Story of the Lord's Dealings with the Colored Evangelist Containing an Account of Her Life Work of Faith, and Her Travels in America, England, Ireland, Scotland, India and Africa, as an Independent Missionary. With an Introduction by Bishop Thoburn
Chicago: Meyer, 1893
xvi, [17]-506 p.: ports., plates; 20 cm..
Rare Book Collection: BV3785 .S56A3 1893
While still young, Amanda's father was able to purchase freedom for his family, who then moved from Maryland to Pennsylvania. Amanda's formal education was slight, amounting to less than three months. She went through two difficult marriages, her second husband dying in 1869. In the same year, she began preaching. She joined the Fisk University Jubilee Singers and while on tour with them, attended the 1872 General Conference of the African Methodist Episcopal Church in Nashville, Tennessee. She continually battled the prejudice against women preaching in public. After attending the 1878 Keswick Convention in England, she remained for a year, preaching in England, Ireland, and Scotland. In 1879, at the invitation of Rev. W. B. Osborne, she went to India, drawing large audiences whenever she preached. Following a second trip to England in 1881, she went to Africa, where she remained for eight years. While attending a Woman's Christian Temperance Union meeting in London in 1894, she decided to establish a home for children of African descent. This prompted her to write her autobiography, the proceeds of which she used to purchase a twelve-room house in Chicago for the Amanda Smith Industrial Home. Friends provided a comfortable cottage for her in Seabright, Florida, where she passed the rest of her days.