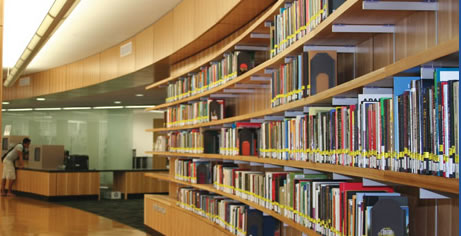 We welcome visitors, guests and researchers. All campus libraries are open to the public during the defined hours. This Web site has information to help you plan your visit. If you are representing a high school group that would like an orientation to the university libraries, please contact staff at the Library you wish to visit.
Our collections support the research needs of undergraduate students, graduate students and faculty in over 170 academic programs. With an emphasis on scholarship, we are different from a public library as we do not collect popular fiction, how-to books, or general magazines. Smathers Libraries is a regional federal, state, and European Union documents depository, and our Government Documents Department is open to all U.S. residents and others interested in government policies and regulations.
Some of our "crown jewels" that you might wish to visit are
Smathers Libraries subscribes to literally hundreds of electronic databases, e-books, online guides to the literature, and fulltext journals. Most of these resources are licensed only for UF students, faculty, and staff. However, all visitors to the campus libraries can access these online resources. See below: Using the Public Workstations at Any Smathers Library.
Reference / Research Assistance Services Available
The following websites provide visitor and guest information, including a campus map and accommodations. If you'd like to pay for private parking near the Libraries (these lots charge by the hour), call 352-273-2616 for details.
Using the Public Workstations at Any Smathers Library
Guides to Using Smathers Libraries
Some of our most popular requests from visitors concern genealogy questions. Smathers Libraries are not a genealogical library, but many of our resources, such as census records and biographical guides and narratives, can help a genealogist find information. Here is a brief Guide to Selected Genealogical Resources. Guides to other libraries on the web and websites can be found at Genealogy Resources LibGuide.
Due to strict license agreements, only UF students, faculty, and staff have remote-access privileges. However, with on-site registration, visitors have the privilege of free on-campus access to all library databases when using our library public workstations.